Zuleika's Birthday Cruise
on Carnival Sensation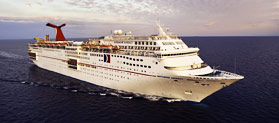 Join Zuleika for her Carnival Sensation birthday cruise sailing on Thursday May 30, 2019 where the journey will be just as fun as the destination. While you're making your way towards destinations of pure islandy greatness, there's serious vacation going on all around, in every corner of this cruise ship.
For a splash, Carnival Sensation definitely has options: a resort-style pool and waterslide options galore. (Three, to be exact.) This cruise ship features the
...
About Carnival Cruise Lines

If you're thinking of cruising, there's a very good chance you're considering a Carnival cruise. Growing since our founding in 1972, Carnival Cruise Line — "The World's Most Popular Cruise Line®" — now carries millions of passengers every year. Our newest ship is Carnival Horizon, which debuted in April, and we're introducing the new Carnival Panorama and the totally transformed Carnival Sunrise setting sail in 2019.
In a nutshell… we're all about fun vacations at sea and ashore! A Ca
...
This is an Exclusive Offer

Includes port charges, government taxes, and fees